Chocolate Oaxacan Manhattan
Chocolate Oaxacan Manhattan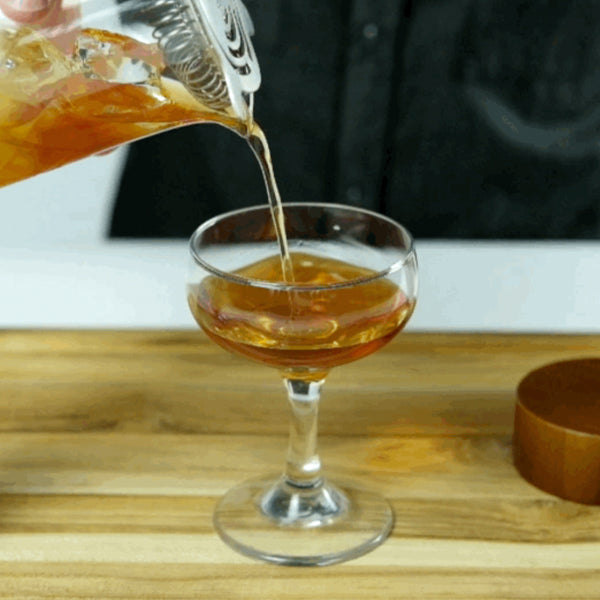 Ever put chocolate and tequila together?
If not, you really should. I made this chocolate-infused tequila with the Teroforma 1pt system in just a few hours.
I've infused various spirits myself before and have even gotten pretty good at it. However, there has always been something I wished I did differently. Maybe I felt like I let the spirit infuse just a little too long, or maybe my ratio was off. With the 1pt, I didn't have any of those thoughts.
The final result was a delicious, chocolate infusion that wasn't too sweet or cloying and tasted amazing even on its own. It didn't overpower the spirit at all, rather the infusion blend added balanced and complementary flavors to the tequila– exactly what you want from a good infusion.
I still enjoy some of the "risk" involved with DIY infusions and would encourage you to try out some of your own. However, the 1pt definitely does make the process so much easier, and essentially guarantees you a good result every time. Honestly, when you're working with costly spirits, that consistency is pretty clutch!
The Chocolate Oaxacan Manhattan - Serves 1
1½ oz 1pt No. 006 Chocolate infused reposado tequila
½ oz Mezcal
½ oz Ancho Reyes chili liqueur
2 dashes aromatic bitters
A few drops of agave nectar
Infusion time:
5
 - 6 
hours
This cocktail just needs a few small drops of agave nectar to add the necessary sweetness for balance. Combine ingredients in a mixing glass and stir with ice. Strain into a chilled coupe and serve without ice. Garnish with an orange peel.
Enjoy!! 
elevate your home cocktail experience.