The Smoky Cinnamon Apple Cider Margarita
The Smoky Cinnamon Apple Cider Margarita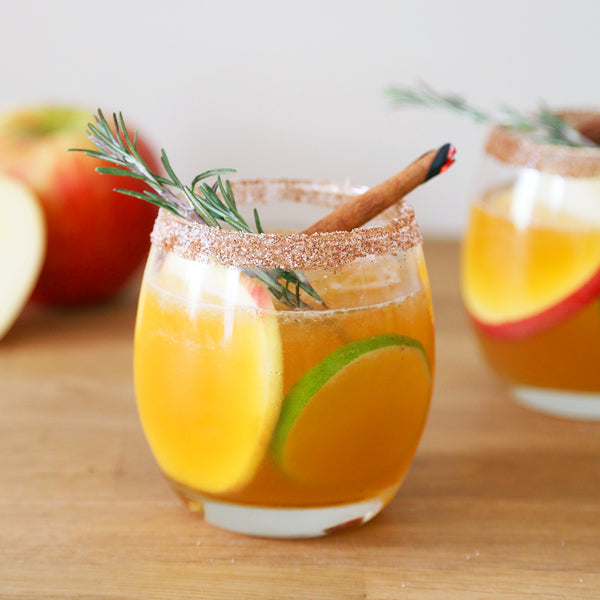 I hear it's #nationalappleciderday. Try using some in these Smoky Cinnamon Apple Cider Margaritas. Cinnamon infused tequila, mezcal, apple cider, lime, and agave. Don't forget the cinnamon sugar salt rim!
The Smoky Cinnamon Apple Cider Margarita - Serves 1
1 oz. 1pt Cinnamon infused tequila
1 oz. mezcal
1 1/2 oz. apple cider
1/2 oz. lime juice
Infusion time:
5 - 6
hours
First, rim your glassware with an equal part mixture of cinnamon, sugar, and salt. Add all of your ingredients to a cocktail shaker and shake with ice. Strain into a double rocks glass over ice and garnish with a slice of apple, lime wedge, rosemary sprig and a cinnamon stick.
These smoky cinnamon apple cider margaritas were even better than I imagined. Cinnamon goes so well with tequila and I really love the smokiness the mezcal provides the drink. If you want the drink the be less sweet than swap out the agave nectar for some Cointreau.
The 1pt infusion kit was so simple to use and really streamlined the whole infusion process. I love that you only infuse a half a bottle of spirit and that I don't have to fine strain. It makes the whole process more simple but most importantly delivers consistent results.
Enjoy!! 
elevate your home cocktail experience.